Family Labradoodles and Goldendoodles – Raising Our Pups in Yorktown
Yorktown, VA
Our home, built in 1836, is situated on a tidal estuary that flows into the Chesapeake Bay. Waterfowl include osprey, blue and white heron, pelicans, geese, ducks, and seagulls. These birds all live, fish, and nest along our quiet waters and coves.
Our dogs have freedom to run and play and just be dogs; to swim and dive after a ball or a crab or visit our neighbors without the threat of cars. We have Doodle Dog Park every Saturday morning (most all our neighbors have a Doodle or two), where everyone gets together and the Doodles socialize, but it's the puppies that are the highlight of our year. We have dozens of lifetimes worth of beautiful memories.
Having a litter of puppies to care for is always the highlight of our year. We spend a great deal of time with each and every adult and puppy.
When our puppies leave to go to their new homes, they are well socialized, happy and healthy. Many of our new owners find that their puppy arrives housebroken! Everyday sights, sounds, smells and stairs are all familiar to our little ones making the transition into your home a happy one. The best "doggy nutrition" is fed to our adults and puppies. Every consideration is given to this important aspect of care. Exercise is also a big part of our Labradoodles day and one that we all look forward to.
Selective breeding, love, proper nutrition and exercise are key ingredients that will help assure that your puppy will be just right for your family.
We are proud members of Avidog Breeding, Training and Socializing Programs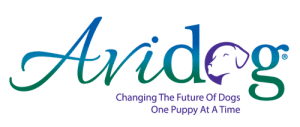 We Do Not Have a Kennel
Our dogs live in our home and share our lives in every way. Our puppies are raised under foot. We have no fences but instead have our secluded yard and neighborhood. With the group walks-winter and summer- and are well aware of the importance of socialization and the"gentling" of every puppy we raise. This involves working with each individual pup: calling to the puppy, encouraging it to follow, play with, stroke, talk to, make eye contact with, and be picked up, held and cuddled many times a day. What a joy filled way to teach nurturing… to take part in helping a puppy learn the self confidence and trust that are the foundations for success as they move forward to their new homes and families.
click here to see Our Yorktown Photo Album