Family Labradoodles and Goldendoodles – About Food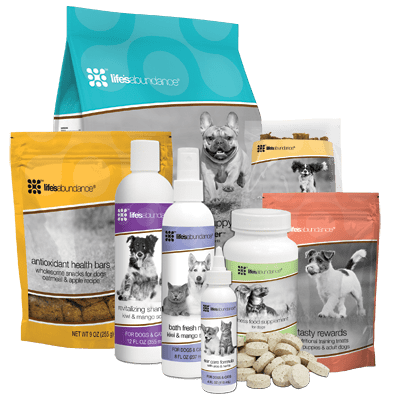 Life's Abundance
Your puppy has been eating  Life's Abundance.  These foods are not available in retail stores. No preservatives, fillers, corn, or gluten and 14 days from time of manufacture to your door, they are the highest and freshest quality food I have found.
Click here to view their products:
Life's Adundance
Life's Adundance
Your puppy will arrive with a sample of the Life's Abundance Puppy Formula (medium) food  that he has been eating.  Life's Abundance offers a variety of formulations.  We strongly encourage that you continue feeding this quality brand of food until your pup reaches 12 months old. They have the proper percentage of protein and carbohydrate appropriate for growing bones and growth plates.  Slow and steady growth during puppy hood develops strong healthy skeletal mass.
Life's Abundance products are not available at retail stores and must be ordered online. We suggest you set up an order for 18 or 20 lb. bag to be delivered every 30 days. If you set up an automatic order, you will receive a discounted price.
They also have excellent customer care and veterinarians on staff to answer your nutritional questions.
Plenty of fresh water should be available at all times.
We are a proud member of the Life's Abundance Field Representative program.