Family Labradoodles and Goldendoodles – Travel Options
Going Home~ Travel Options
We offer several options for getting your puppy to you-
Your puppy has been well socialized and exposed to an amazing amount of stimuli in his 8 weeks with us. He is confident and self-assured… as is his nature. We therefore have few if any problems shipping our puppies. They are able to tolerate most of the rigors of travel with less stress than one would expect. With safety our primary concern, we do our best to offer various choices to minimize stress and to fit your travel needs.
We Can Meet You
We are happy to meet you up to 2 hours driving time towards an agreed upon meeting place. If this delivery option will help shorten your trip, we will travel at no charge.
Travel by Air Cargo
We use Airlines that are an accredited member of the PETSAFE PROGRAM only. Puppies may travel at 8 weeks of age, not before. They are required to have a USDA Health Certification up to 10 days prior to travel.
If we do the shipping, we will make all flight arrangements; provide everything necessary for a comfortable flight including the airline approved carrier and USDA Certificate. Please let us know your airport of choice and what day is convenient for pick up.
Cost for shipping is $375 within the Continental US.
Some airports have Cargo Facilities located close to, but not at, the terminal. Others have pick up at the Baggage Claims Office in the Baggage Claim area of the terminal.
We will let you know exactly where you will pick up your puppy. Be sure to have valid pictured ID in the name listed on the Air Waybill and Health Certificate. If someone other than you will pick up (including courier services) please let us know so that cargo claim will go smoothly.
Now it's up to you- Your new family member will most likely want water.  You should have an extra towel handy in the (likely) event that air sickness or "other" fluids may have soiled your puppy's crate.
As soon as possible, allow for a comfort stop to potty. I have even resorted to a disposable puppy piddle pad (included in your packet on top of the crate), and used a restroom to put the puppy and pad on the floor. I'm not sure why, but they always seem to perform.
One final thought- Your puppy will respond to CALM, quiet movements, no loud noises or grabbing at him. These actions will alarm an already cautious little soul. If you are calm, he will be calm….and comforted!
Of course, if you can't restrain yourself……… Hugs! Hugs! And more Hugs!
Flying 'in cabin' With Your Puppy
Most airlines offer an 'in cabin' flat fee ($100-150) if you are hand carrying your pet
You will need an airline compliant Carrier- soft-sided that will fit under the seat in front of you. Purchase the maximum allowable size-23″long x 13″wide x 9″high. It will need to have mesh ventilation on a minimum of two sides
The combined weight of the pet and carrier may not exceed 2o lbs.
You must check in at the airline ticket counter. Curbside and self-service check are not allowed.
Your carrier will count as one carry-on or personal item.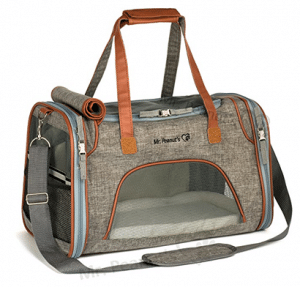 We will supply you with food, pick-up bags and piddle pads. Position the carrier so that your puppy can see you. This will reassure him. As soon as possible, allow for a comfort stop.
Most importantly, enjoy the adventure!
Courier or Nanny Options
We do have several retired airline personal that we trust to fly with your puppy in-cabin from our location to your closest airport. We will assist in making these arrangements and in supplying the necessary documentation and comfort items for travel. The courier will use their own Airline Approved Carrier.
They charge $400 and is all-inclusive for this service. This price includes everything- pickup, delivery, flight and airline fees. You will pay their fee directly to them (usually in cash) when you pick up your puppy.
This is a wonderful option, however there are drawbacks.
The couriers fees are reasonable hence they stay very busy…often weeks if not a month wait time. If you know for certain that you would like this service, let us know so that we might get you on their delivery schedule.
Your schedule must be flexible for pick up. They are usually flying stand-by therefore may not know when a seat is available or may be 'bumped' halfway to you.
The courier will contact you and keep you up to the minute on their travel progress. They have all been exceptional- will stay in close contact with you (usually by text) and will never leave you wondering.
Picking Up Here
We are located in Yorktown, VA at 318 Jethro Lane.
As far as most GPS systems are concerned, Jethro Lane ends in a cul de sac. Straight ahead is a private paved continuation of Jethro. We are the second driveway on the right with white posts, gate and gravel lane.
Many of the suggestions listed above may help with your travel home by car. Bring paper towels, a regular towel or blanket, crate if someone is unavailable to hold or watch your puppy. If you do use a crate or carrier be sure that your puppy can see you.
If your puppy whines or cries and doesn't want to settle in for the trip, try playing the CD located in his folder. He has been listening to this music for weeks and will recognize it as familiar and comforting.
Your puppy 'take home bag' will include, among other things:
Water, bowl, food, blanket, toy, treats and pick-up bags.
A word of caution- when traveling, NO dog rest areas or dog parks…period! Not until your puppy has been fully immunized at 16 weeks. Your puppy will have only had the first of three required immunizations to protect him from several life threatening diseases, Parvovirus being the deadliest; alive and well where other animals have defecated. ONE shot is not enough. The second is given at 12 weeks and the third at 16 weeks.
He may then poo wherever in the world he desires but NOT until then.
Choose some nice clean area that looks free of waste. And don't forget to pick up after your puppy (pick up bags are supplied in your puppy's travel bag).
Cracker Barrel will thank you.
Planning to Visit
We are located at the end of Jethro Lane.
Most GPS systems will indicate that you have arrived when approaching the Cul de Sac.
Proceed straight through onto a private one-lane paved road (still Jethro Lane)
318 is the second driveway on the right with white posts and a gate.